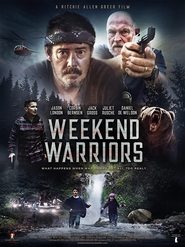 Weekend Warriors (2021)
A fun camping trip turns into a desperate fight for survival after two kids witness a horrific event in the wild. They have to endure the elements and wildlife and they must also find a way to reach civilization before it's too late.
Views: 76
Genre: Action
Director: Ritchie Greer
Actors: "Tag" the Bear, Amber Wegner, Brannon Cross, Bryant Carroll, Corbin Bernsen, Daniel Felix de Weldon, Evan Huit, Isabella Sides, Jack Gross, Jason London, Jason Michael Carroll, Jeff Hammond, Juliet Rusche, Maurice P. Kerry, Phillip Andre Botello, Pilot Paisley-Rose, Vitaly Andrew LeBeau
Country: USA
Duration: 90 min
Quality: HD
Release: 2021
Tagline: What Happens When War Games Get All Too Real?
4.2