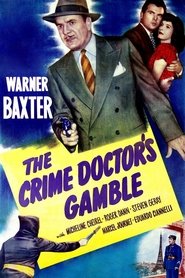 The Crime Doctor's Gamble (1947)
On a lecture/vacation visit to Paris, Dr. Ordway drops in on his friend, the Prefecture of Police. He becomes involved in a case involving the stabbing of an old man. The man's son, not all that mentally stable, believes he killed his own father in a rage because his father disliked his new bride, the daughter of a cabaret knife-thrower. Investigating the case, Ordway finds that the business of the legal copying art masterworks may also be involved.
Duration: 66 min
Quality: DVD
Release: 1947
Tagline: A SPREE in GAY PAREE ends up in MURDER!
Original Title: The Crime Doctor's Gamble
5.9