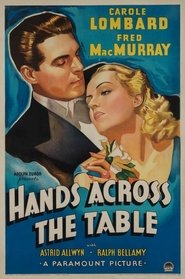 Hands Across the Table (1935)
Hotel manicurist Regi Allen is a cynical golddigger who meets her match in Theodore 'Ted' Drew III. After a date with Ted, she lets him sleep on her couch when he's too drunk to go further; but what is she to think when he wants to extend the arrangement?
Duration: 80 min
Quality: HD
Release: 1935
Tagline: A Little Fortune Hunter...A Bankrupt Playboy...Both Out to Marry Money..And Laugh at Love!
7.2