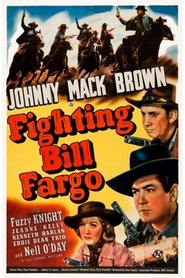 Fighting Bill Fargo (1941)
Johnny Mack Brown essays the title role in Universal's Fighting Bill Forgo. Returning to his home town, Bill Fargo takes over the operation of his late father's newspaper. He quickly gets swept up in political intrigue fomented by political boss Hackett (Kenneth Harlan), who has a cute habit of rubbing out any and all honest candidates for the sheriff's office.
Duration: 57 min
Quality: HD
Release: 1941
Tagline: He Crusades for Law...with a Crashing Colt!
4.2